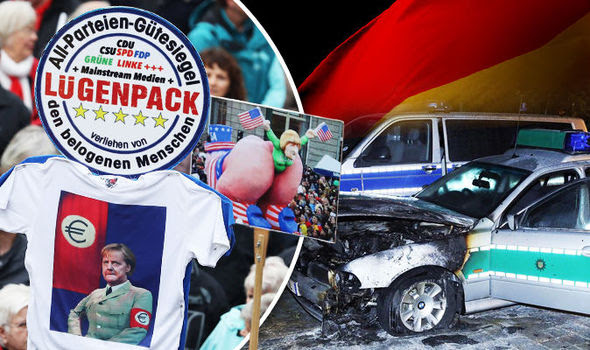 HUNDREDS of furious protesters heckled Angela Merkel in Dresden just days after police cars were set on fire in the city and bombs exploded outside a mosque.
Campaigners jeered the German Chancellor as she attended celebrations in the eastern city to mark 26 years since Germany's reunification.
Graffiti declaring "All of Dresden hates the police" has been sprayed in a street near the scene of the arson.
Protesters held signs showing Mrs Merkel dressed in a Nazi uniform with the swastikas replaced by Euro symbols
Dresden is the birthplace of the anti-Islam Patriotic Europeans Against the Islamisation of the West (PEGIDA) group.
The grassroots movement, whose weekly rallies attracted around 20,000 supporters at their height at the start of 2015 held a rally in the city today.
Protesters blew whistles and shouted 'Traitors' and 'Get out' as the German Chancellor arrived in Dresden.
Others held signs showing Mrs Merkel dressed in a Nazi uniform with the swastikas replaced by Euro symbols and branded Mrs Merkel's government 'a dictatorship'.
The German Chancellor has come under fire for her open-door policy which has seen one million migrants arrive in Germany.
In a short statement, Mrs Merkel, who grew up in the former East Germany, called for "mutual respect" in the political debate and said she wished that all sides could work together to tackle the new problems regardless of their different political views.
Some 2,600 police officers are on duty for the event known as German Unity Day.
On Saturday

, three police cars were set alight by unknown perpetrators in the city.
Police investigating the arson say they suspect the attack was "politically motivated".
The celebrations come after two improvised bombs exploded in Dresden last week, one at a mosque and one at an international conference centre.
But despite the violence, police insist the celebrations have run "smoothly".
German neo-Nazis are said to be the prime suspects after two explosions targeted a local mosque.
No-one was hurt in the blasts.
Green Party leader Katrin Göring-Eckardt described the situation in Dresden "grotesque".
Northern and Shell Copyright ©2016 Express Newspapers. "Daily Express" is a registered trademark. All rights reserved.