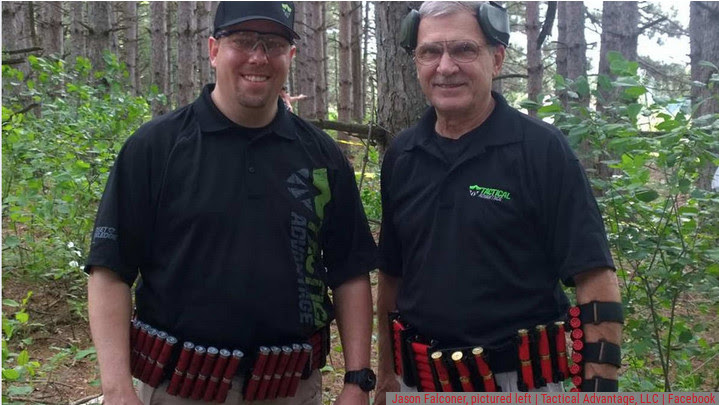 Jason Falconer is the armed citizen who stopped the mass stabbing in the Crossroads Center Mall in St. Cloud, Minnesota,

on Saturday

evening, September 18th, 2016. Falconer is competitive shooter, firearms instructor and CEO of Tactical Advantage. From tacticaladvantagemn.com:
Jason Falconer is President/Owner of Tactical Advantage Firearms Training, Inc. which has been operating since 2003. Tactical Advantage currently concentrates on firearms training for individuals in a group or private setting, including permit to carry training in MN. Jason has also created advanced and customized classes for individuals who desire more advanced safety training. His business has grown primarily through student referrals, and Jason takes pride in providing the best training options available in Central MN.

Continued education and training has been a personal interest of Jason's, as he believes each of us has something to learn no matter our level of expertise in our area of discipline. As a result, he has attended some of the best firearms training schools in the United States. His goal is to teach individuals the mindset, knowledge and skills needed to be successful with firearms in order to secure their personal safety or that of their family, at home or in public. As a training professional, he continuously researches and develops new curriculum and training methods to make the training experience for his students the best they can get.

Since 2008, Jason has been assisting Ted Boran with St. Cloud State University skills training in the disciplines of decision shooting and dynamic entry. He intends to utilize this experience to further develop curriculum to instruct law enforcement professionals and qualified civilians the benefits of reality based training. Jason believes that although civilian and law enforcement students can obtain great firearms training from various sources, they are missing a key component in their personal safety training without going through reality based training.

Jason also has a law enforcement background and is the former Police Chief of the Albany Police Department. Jason also serves as the department's firearms instructor, and has created POST Board approved firearms training curriculum. He currently serves as a part-time officer with the City of Albany.

As a consulting member of S.M.E.A.C., Jason specializes in consulting in reality-based firearms, law enforcement and personal security training. www.smeac.org
Jason started offering training with the passage of the shall issue concealed carry law, the Minnesota Personal Protection Act, in 2003. He taught for 10 years before acquiring property and establishing his own range at
521 10th Ave, South Waite Park.

I can relate. In short, Jason is a dedicated member of the Gun Culture. He is said to be a part time member of the Avon Police Department. While the bio says that Jason is a part time officer with the city of Albany, we do not know when the bio was written. It may be that he serves part time with both departments.

It is not unusual for police firearms instructors to maintain a part time position in the local police department, especially if the department is small. The Avon PD has three full time officers and five part time officers. From cityofavonmn.com:
The Avon Police Department is currently not a 24-hour department. We are staffed with 3 full-time officers and 5 part-time officers. If you receive the answering service, police staff may not be on-duty and may not be able to return your call immediately.
The Albany Police Department is currently comprised of 1 chief, 1 police sergeant, 2 full-time patrol officers, 5 part-time patrol officers and one non-sworn support staff.
Having a proficient firearms trainer on staff part time offers significant advantages to both the department and the instructor. The instructor can maintain their LEOSA status, allowing for carry anywhere in United States territory. The department is able to keep its officers qualified and conduct training with minimal additional expense. I do not know if that is the situation with Jason; but Tactical Advantage offers the annual LEOSA training necessary for retired officers to maintain LEOSA credentials.

Jason is keeping a low profile a the moment. I am sure that the story, from his perspective, will eventually be known.

Hats off to Jason Falconer.

©2016 by Dean Weingarten: Permission to share is granted when this notice and link are included.
Link to Gun Watch
http://gunwatch.blogspot.com/2016/09/jason-falconer-on-left-with-hat-jason.html