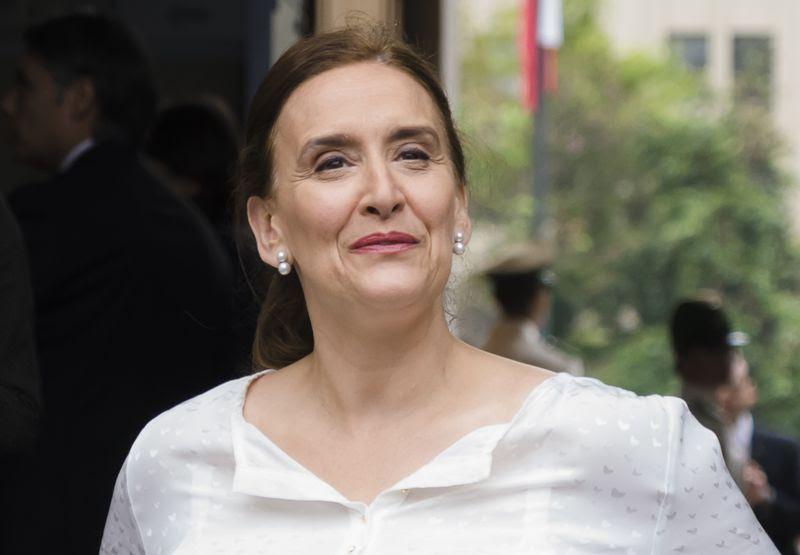 Argentines don't trust the banks or the government. Argentina's economy collapsed in December 2001 and it has never completely recovered since. Consequently they tend to keep their money in cash hidden in their homes, "stuffed in their mattress" like Americans who lived through the Great Depression 80 years ago and lost their savings in the bank failures.
=======================================================================
The case of $67,000 stolen from Argentine Vice President Gabriela Michetti's house should have ended when her bodyguard was arrested.
Instead, prosecutors have shifted to tracing the money's origin, making her a public example of the challenges President Mauricio Macri's faces in weaning the country off its reliance on cash, an age-old system that in many instances hides tax evasion.
Elected last November on a vow to reverse 12 years of leftist populism, Macri ended currency controls, reformed the statistics bureau and settled a toxic dispute over bond payments. Now his sights are set on modernizing the economy and pulling Argentines into the banking system. It's a push that Macri's predecessors tried many times before, to little avail,
as an estimated $500 billion was stashed away over the past 30 years.
The case "shows that practices such as this carried out over decades have become part of the culture," said Jorge Gaggero, founder of the Tax Justice Network for Latin America and the
Caribbean
. "A behavior that in other countries would seem dysfunctional for people here is natural."
Swiss Accounts
In May, the government announced a tax amnesty to capture some of the undeclared funds kept in safety deposit boxes, Swiss bank accounts and in properties in Uruguay's Punta del Este, a favored beach resort. Argentines who come clean on their untaxed savings by the end of March will pay a one-off fine of as much as 15 percent. They can also invest in three-year and six-year Treasury bonds or make long-term investments in infrastructure projects, housing, mortgages or small- and medium-sized businesses.
Michetti has denied any wrongdoing and said that the money that was stolen had been declared to tax authorities. Paula Schuster, Michetti's spokeswoman, said
Tuesday
that the vice president had no further comment on the matter.
The central bank has issued regulations forbidding banks from charging for opening a savings account or for making electronic transfers. It has also warned banks it will begin charging them for delivery of cash.
Only 50 percent of Argentines owned a bank account in 2014, according to a World Bank report, compared with 68 percent in Brazil and 63 percent in Chile. The only countries with 100 percent bank account penetration were Sweden, New Zealand and Norway.
Persuading Argentines to join the banking system would significantly increase the government's tax-gathering capacity, Marcelo Costa, director of compliance at the tax agency, said in an interview in Buenos Aires.
More Weapons
None of the previous four amnesties carried out in the last 30 years has proven very successful but the government says it has more weapons in its arsenal this time.
Sharing of tax information among countries is improving, especially after member states of the Organization for Economic Cooperation and Development (excluding the U.S.) agreed to open their books starting next year.
"A bank isn't going to hide an asset because that bank will end up with a criminal investigation," Costa said.
Cash in circulation in Sweden is just over 2 percent of gross domestic product and the value of bank notes in circulation has dropped by almost 25 percent since 2011.
"We are receiving personal advice from the president of the central bank of Sweden, a country where just 6 percent of transactions are carried out using cash," central bank President Federico Sturzenegger said in a speech on
April 26
.
Michetti said on Facebook last month that her stolen cash was a combination of donations from a dinner for her charitable foundation, household expenses and a loan from her boyfriend. A bodyguard has been charged. But the investigation into the origins of the cash continues.
Common Practice
On
Facebook
, she agreed that the money should have been deposited in a bank but said some of it was earmarked for builders working on her house who wanted to be paid in cash -- a common practice.
Such habits are dauntingly hard to change. In 2014, a third of the Argentine workforce wasn't registered on payrolls, according to Salvador Treber, an analyst in Cordoba. He suspects that number has risen further as economic growth slowed following the austerity measures Macri implemented.
The economy shrank 0.7 percent in the first quarter, its third consecutive quarter-on-quarter contraction. That has made boosting tax revenue all the more urgent as revenue this year has plummeted to about half the rate of inflation.
The magnitude of the problem is brought into focus by the black market currency traders -- known as arbolitos, or little trees -- who still line the streets in downtown Buenos Aires. Over the past dozen years, they were emblematic of the distortions wrought by capital controls. Now that the controls are gone, they demonstrate the pervasiveness of tax dodging, said Juan Manuel Vazquez, head analyst at Puente SA, a brokerage.
"There's still a lot of income that comes from the informal economy and that money can't enter through the formal circuit which is why these kinds of operations still exist," Vazquez said.
Moldy Bills
On an intersection of pedestrianized streets, there are now about five arbolitos operating compared with about 20 during the previous government, said a money changer who asked not to be named because what he does is illegal. Many of his clients are tourists. The remainder are Argentines who don't want to explain to authorities how they obtained their money, he said. He can tell the money has been kept at home because the bills are often moldy, he added.
Argentines' dislike for paying taxes is partly driven by a mistrust of their government's ability to manage the economy. The country has defaulted seven times in 200 years, most notably in 2001 when its citizens had their accounts frozen as the peso lost three-quarters of its value. When the economy improves, so does tax collection, said the tax agency's Costa.
As for Michetti, the
Nov. 22
robbery, on the night Macri was voted into power in a runoff election, is unearthing further damaging information. Her maid of 22 years told police that she regularly sees envelopes full of cash in the house and that she is paid about 1,000 pesos ($67) a week, below the minimum wage. The judge also wants to know why at the time of the burglary none of the staff at her foundation was registered with the tax agency.